Contributory Negligence: A Bicyclist's Worst Enemy
Contributory Negligence: A Bicyclist's Worst Enemy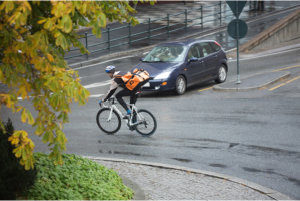 Contributory negligence single-handedly stops more Washington, DC area bicyclists from recovering for their injuries than anything else. Contributory negligence is a legal doctrine that says that if the injured person is even slightly at-fault in the collision, she is barred from recovering from anyone else. States have overwhelmingly rejected contributory negligence in favor of legal doctrines that allow each injured person to recover according to her own degree of fault (generally referred to as "comparative negligence"). In fact, there are only 5 jurisdictions that still use the antiquated concept of contributory negligence in the United States, and Virginia, Maryland, and Washington, DC are three of the five. So in the DC area, there is no way to avoid contributory negligence's consequences.
Contributory negligence presents harsh consequences to anyone involved in an accident, but the effects are even worse for bicyclists for a few reasons. First, in a collision between a bike and a vehicle, the vehicle usually wins. The bicyclist is often physically injured, whereas the motorist almost never is. Since contributory negligence only applies to injured people, its effects disproportionately apply to cyclists in collisions. Second, many people in DC, Virginia, and Maryland are not clear about on how the rules of the road apply to bicyclists. When people are unclear on the law, there are times when witnesses and motorists erroneously pass judgment on bicyclists. Usually when a cyclist is blamed, rightly or wrongly, some of the blame sticks. The result is that contributory negligence prevents many bicyclists from recovering for their injuries.
If you were hit by a vehicle while riding your bike, I can help. I am keenly aware of how contributory negligence impacts bicyclists in the DC area and am one of the few lawyers that advocate against it. I know that when contributory negligence is a threat in a case, the details matter more than in many other accidents. I also ride a bike and know the streets, sidewalks, and trails in DC, Virginia, and Maryland. Contact me to discuss your case.