BICYCLE ACCIDENTS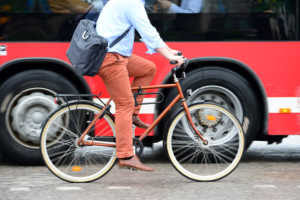 You were hit by a car while riding your bicycle somewhere in Washington, DC, Northern Virginia, or the Maryland suburbs. You went up onto the hood of the car, or into the windshield, or went over the top of your handlebars, or wiped out and skid across the pavement. Maybe you ended up with a broken collarbone, or a concussion, or some of the worst road rash ever. You've missed work because you can barely walk.
Now what?
You are getting calls from the driver's insurance company asking you lots of questions. You know you need to follow up and get a copy of the police report. You went to the emergency room and vaguely remember being given the name of a referral to follow up with.
Your head is spinning with questions about what you should do.
I can help.
Maybe you are just looking for information. If so, you'll find it here. Explore the bike crash resources on this page. There are articles that explain important bicycle accident issues, simple guides on how to proceed, and answers to common questions you may have following a crash.
Maybe you are looking for an attorney to help you after your bicycle accident. Or maybe you just don't know what to do. If so, call or email me. Not only do I have experience helping injured cyclists, but I also ride. I know the challenges bicyclists face when negotiating the roadways and trails in the DC metropolitan area. I also keep up with the evolving legal landscape that bicyclists face. If you were hurt while riding a bicycle, contact me to discuss your case. There is no charge to speak with me.